Ottery St Mary
Ottery St Mary has a population of approximately 5,000 residents (2011 census 4,898) and stands on the Eastern side of the river Otter, from which it takes its name. Set in the midst of pleasant farmlands in a green valley 12 miles east of Exeter with its links to the M5 and International Airport, it is one of the most historic towns in Devon, dating back to Saxon times.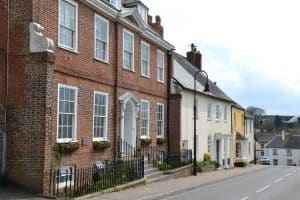 Ottery's notable buildings include the Tumbling Weir and St Mary's church, which has been referred to as 'a miniature Exeter Cathedral'.  The town is the site of The King's School, a former grammar school founded in 1545 by Henry VIII and now a well-respected comprehensive with around 1,100 students and Ottery St Mary Primary School which has approximately 400 pupils. The King's School became a comprehensive school in 1982 and is now a government-endowed Sports College with access to facilities shared by the public – namely the Colin Tooze Sports Centre.
The town as it now stands, comprises many independent shops, mainly in Mill Street, Silver Street and Yonder Street, plus a large Sainsbury's supermarket.  An area known as 'The Square' is the heart of Ottery St Mary. There are pubs, restaurants, coffee and tea rooms and good parking facilities. There are also several churches of various denominations within the town.
Medical services include the Coleridge Medical Centre, a GP practice located in the town, the Ottery St Mary hospital with its XRay and Physio departments and Ottery St Mary Dental Practice.
Famous for the Tar Barrels celebration, Ottery St Mary typically stages the annual event around Guy Fawkes Night when, in a tradition dating from the 17th century, barrels soaked in tar are set alight and carried aloft through parts of the town by residents.
Sports facilities include The Non-League football club, Ottery St Mary A.F.C. which plays at Washbrook Meadows and, as above, The Colin Tooze Sports Centre which is located opposite the King's School.
Transport links are good with bus services to Exeter, Honiton, Sidmouth, Whimple and Colyford. The nearest railway stations are Feniton, Honiton or Whimple, all on the West of England line and the A30, with its links to the M5, Exeter City and International Airport is only a couple of miles to the North of the town.

West Hill
West Hill is a village in East Devon with around 2000 residents situated approximately 2 miles south west of Ottery St Mary and 8 miles east of Exeter.
Often referred to as The Woodland Village, West Hill sits on the wooded western slopes of the beautiful Otter Valley having been allowed to grow within a framework of beautiful beech, oak, silver birch and pine woodland. The rural quality of its verges and Devon banks, the glimpses of wonderful tree-framed views at every turn, and the maturity of these trees, is what makes West Hill special.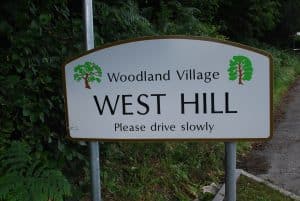 Ottery St Mary is the closest town, just two miles away, offering all the usual town amenities including medical centre, many varied shops, a large supermarket and several pubs and places to eat. West Hill itself has a small complement of its own amenities including the Village Store with its own in-house butchers and Post Office, dental practice, garage – offering MOT, repairs and petrol pump service and the Village Hall which provides a regular home for over 20 local clubs, societies and organisations.
West Hill primary school is at the heart of the village and has an outstanding Ofsted rating whilst, nearby, at Ottery St Mary is the equally 'outstanding' Kings School Comprehensive.
Regular bus services link the village to Exeter, Whimple and Honiton, Ottery St Mary, Sidmouth and Colyford while only 7 miles to the West is Exeter's International Airport and access to the M5 motorway. The nearest railway station is Whimple on the West of England line which is 4 miles away.

Sidmouth
Sidmouth is an elegant Regency town situated 14 miles East of Exeter, it appears in the Domesday Book of 1086 as Sedemuda, meaning 'mouth of the Sid' and like many such settlements, it was originally a fishing village.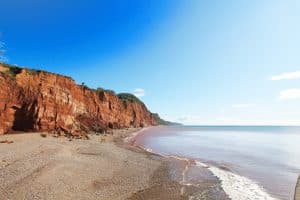 Sidmouth sits in a valley between Peak Hill to the West and Salcombe Hill to the East. It is surrounded by the East Devon Area of Outstanding Natural Beauty and is on the Jurassic Coast, a World Heritage Site and the South West Coast Path.
The wide esplanade has been a prominent feature since Regency times and provides a wonderful vista of the sea, cliffs and elegant Regency hotels which are situated along the sea front. There is a large independent department store, Fields of
Sidmouth, which has been on the same site for over 200 years plus pubs, restaurants, coffee houses and tea rooms. There is also an indoor swimming pool, a sports hall and a golf course. During the summer, Sidmouth Town Band plays a series of concerts in the Connaught Gardens each Sunday and Sidmouth is also well known for its week long Folk Festival which is held every summer attracting musicians and visitors from all over the world.
There are many schools; Sidmouth College is a comprehensive school which takes children aged between
11 and 18, one junior school and two infant schools. Additionally, there is a private school, St John's, which takes children from two to 18 and Sidmouth International School which is an English language school for foreign pupils.
Medical services are plentiful in the town with a new modern Health Centre on the outskirts plus an associated practice in the Town Centre. Sidmouth Hospital is an 18-bed facility and one of 12 community hospitals in Eastern Devon. It provides a range of services and clinics which enable people to be cared for closer to home. There are additionally, numerous dentists, opticians, podiatrists and alternative healthcare practitioners throughout the town.
Sidmouth lies to the South of the A3052 coast road. This provides access to Exeter and the M5 motorway 12 miles away. Regular bus services connect to Exeter, Honiton and Seaton and the nearest railway stations are Feniton, Honiton or Whimple, all on the West of England line.

Exmouth
Exmouth, established during the 18th century, is one of the oldest and most picturesque seaside tow
ns in Devon. The town is the gateway to the World Heritage Jurassic Coast and has two miles of sandy beach, which is perfect for water sports and walks. It is situated on the South East coast of Devon where the river Exe meets the sea. Close to Exeter, this vibrant town offers plenty of walking and cycling routes and water sports as well as local shops and restaurants to enjoy all year round.
Exmouth has a wide range of architecture, ranging from small cob cottages in parts of the town that were once villages, to the Georgian, Victorian and Edwardian town houses. The seafront has a traditional promenade which stretches all the way along the sandy beach.
Exmouth serves as a regional centre for leisure industries, particularly water sports such as sailing, kite sailing, paddle boarding, jet-skiing, and wind-surfing, and outdoor activities such as bird-watching, cycling and walking. The Exe Estuary is a Site of Special Scientific Interest (SSSI) and is noted in particular for its wading and migrating birds.
The town has 8 primary schools and one secondary school plus numerous medical centres, dentists, opticians and a local hospital. Churches of many denominations can be found in Exmouth and there is a vibrant town centre which also boasts numerous coffee shops and eateries plus several supermarkets and a busy retail park.
Exmouth railway station provides a regular service to Exeter St David's station, a 20 minute journey along the picturesque River Exe and there is a ferry which operates during the summer months across the Exe estuary to Starcross. There are several, frequent bus services in and around the town, including the Stagecoach Gold service to Brixington in one direction, and Lympstone, Topsham, and Exeter in the other. Another popular Stagecoach service is the summer service to Sandy Bay Holiday Park, this is usually operated by an open top bus, and runs every hour. There is also a bus link to Budleigh Salterton.

Topsham
Topsham is located, on the east side of the River Exe between Exeter and Exmouth. Although village-sized, with a current population of around 5,519 (2011 census), Topsham was designated a town by the 1300 royal charter. Once a thriving port and shipbuilding centre, Topsham still retains a strong maritime flavour. This attractive, historic town has a cosmopolitan atmosphere with an eclectic cluster of specialist retailers, coffee shops, pubs and fine restaurants.
Topsham's local football club is Topsham Town AFC, a non-league side in Devon. Topsham Rugby Club has two senior sides and over 200 juniors making it one of the largest "junior" clubs in the South West. The town also has a bowling club an outdoor swimming pool and a sailing club.
There are nurseries and a primary school in Topsham and secondary schools either in Exeter or Exmouth. The town has 4 churches; C of E, Catholic, Methodist and Gospel, and there is a Doctor's surgery along with various medical services such as opticians, physiotherapists and a vet. A community Hub, Nancy Potter House, is home to a wide range of health and social care services, educational and social activities.
The transport links from Topsham are excellent. There is a train service to Exeter St Davids offering a fast train service to London Paddington which takes just over 2 hours. The M5 motorway junction and International Exeter Airport are a few miles away by road. A regular bus service runs to Exeter and Exmouth and the Topsham Ferry runs across the river Exe to Topsham Lock on the western bank of the river.

Budleigh Salterton
Budleigh Salterton is a small town on the coast of East Devon, 16 miles South East of Exeter. It has a population of 5,967 (2011 census) and lies within the East Devon Area of Outstanding Natural Beauty. Its pebble beach and cliffs are part of the Jurassic Coast World Heritage site and its situation  at the mouth of the River Otter where the estuary forms an area of reed bed and grazing marsh is an important haven for migratory birds and an SSSI for those interested in bird watching.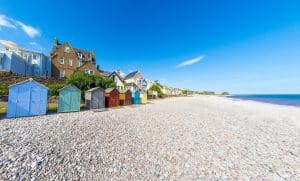 There is a busy and thriving town centre with an eclectic mix of retailers, coffee shops and restaurants. Most everyday needs are catered for, with a baker, butcher, greengrocer, fishmonger, grocery shops and delicatessen, all providing a superb selection of fresh, quality foods. There are also many shops offering speciality products plus an optician, hairdresser and post office.
Budleigh Salterton is home to the scenic East Devon Golf Club and lawn croquet club (offering croquet, bowls and bridge). The latter, founded in the late 1860s, is one of the oldest and largest in the country. There is a youth football team, a cricket club, a rifle club, and a games club offering tennis, bowls and other pursuits.
There are churches of various denominations and a local Primary school and Nursery school. Secondary schools can be accessed at either Exmouth, Ottery St Mary or Sidmouth.
Transport links are good with regular bus services to Exmouth, Sidmouth and Bicton College, nearby railway station at Exmouth (5 miles distant) and proximity to the M5 motorway and Exeter International Airport (11 miles).

Whimple
Whimple is a village and civil parish in East Devon with a population of 1,173 (2011 Census) situated approximately 9 miles East of Exeter and 3 miles from Ottery St Mary. It was listed in the Domesday Book as 'Winpla' which was originally the name of the stream that runs through the village, one of many local tributaries of the River Clyst, which in turn feeds into the Exe.
With its long tradition of wassailing, which it celebrates every year on Old Twelvey Night (17th January), Whimple maintains its local village community traditions and remains a popular place to live.
The village is centred on the largely 19th century village square and rebuilt Norman church and has two pubs, a village shop, Medical Centre and Church of England primary school which has approximately 150 pupils. The after-school club, Sporty Stars, offers a range of exciting activities, from traditional sports such as football, cricket and rugby to alternative sports such as dodgeball, volleyball and handball. There is also a village Cricket Club.
Transport links are excellent as Whimple railway station is on the West of England Main Line which runs from London Waterloo to Exeter and a regular bus service runs to Sidmouth, Exeter and Ottery St Mary.  Exeter International Airport is only 6 miles away, as is the M5 motorway.

Cranbrook
Cranbrook is a new town in East Devon consisting of approximately 3,000 residential properties with plans to increase this to 6,500 properties by 2027.  It is located 6 miles East North East of Exeter, just north-west of the village of Rockbeare, between the B3174 road (London Road) and the West of England Main Line railway. The civil parish was formed in April 2015 and sits within the Broadclyst ward of East Devon.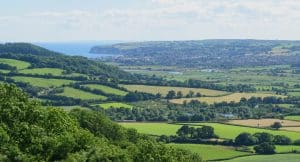 Town centre shops include a Supermarket, Post Office and Pharmacy and there are a number of eateries, pubs and restaurants.
The Younghayes Centre, adjacent to the Medical Centre and opposite St Martin's Primary School, is a busy hub at the heart of the community. Its main hall is in use throughout the week by a wide variety of community, youth and sports groups, whilst at weekends it is the venue for private parties and other events.
There are two schools, St Martin's C of E Primary & Nursery School and Cranbrook Education Campus which is part of the Ted Wragg Multi Academy Trust and has a Nursery, Primary and secondary school on site.
Churches of various denominations are situated in the town including C of E, Catholic and Congregational.
Transport links are excellent with bus routes running between Exeter, Cranbrook, Ottery St Mary, Honiton and Axminster and Cranbrook railway station providing an hourly service to Exeter and London Waterloo. By road, Cranbrook is only 2 miles from Exeter International Airport and the M5 motorway.

Honiton
Honiton is a large market town and civil parish in East Devon, situated close to the River Otter, 17 miles north east of Exeter. In 2009 its population was estimated to be around 12,000. It is a busy town surrounded by mainly agricultural land with picturesque hillsides, lush valleys and pretty villages.
Famous for its lace making heritage, the town has also become a centre for antiques and antiquarian books and is host to the annual Honiton Agricultural Show, an event traditionally held on the first Thursday of August in fields near the town, dating back to 1890.
With its busy town centre, Honiton offers a diverse shopping experience with supermarkets, chemists, opticians, clothes shops, furniture shops, bakeries, butchers, hairdressers etc.  Honiton also has an extensive selection of restaurants, cafés and pubs. There are also two markets held each week along the main road through the town.
There is a large medical practice and a local hospital for minor injuries and out of hours doctor's appointments plus other services including physiotherapy, xray and maternity. You will also find a couple of dental surgeries and various alternative treatment centres. There are also many churches of various denominations.
Honiton has two primary schools, Honiton Primary School and Littletown Primary School, as well as a secondary school, Honiton Community College, which includes a sixth form. There is a large Leisure Centre with a swimming pool, tennis courts and gym which hosts a variety of sports and exercise classes plus many children's activities. The Beehive is an award-winning community venue in Honiton, with a programme of live events, cinema and space for community activities, exhibitions, workshops, meetings and conferences.
The railway station, which is in the centre of town, is served by South Western Railway services to London Waterloo and Exeter St Davids. Honiton also enjoys regular bus services to Exeter, Sidmouth, Seaton and Taunton and, of course, with its proximity to the A30, easy access to the M5, A303 and Exeter International Airport.

Newton Poppleford
Historic Newton Poppleford is a large village in East Devon, situated on the A3052 between Exeter and Sidmouth on the West side of the river Otter. It lies within the East Devon Area of Natural Beauty and its surroundings are known for market gardening. There are also fruit farms nearby.
The name Newton Poppleford means 'The New Town by the Pebble Ford.' It was originally settled by the Saxons and founded as a 'new town' in the 13th century.
The village is on the route of a Roman road from Axmouth to Exeter and includes some attractive whitewashed cob thatched cottages dating back to the 15th century, one shop, a takeaway and St Luke's Church which was founded in 1331.
The town contains a popular primary school and a local pub which hosts regular community events.
There is a Doctors surgery in the village and dental practices in nearby Sidmouth and Ottery St Mary. Transport links are by road and bus with a regular service to Exeter, Sidmouth and Honiton. Exeter with its links to the M5 motorway and International Airport is just 12 miles away to the West.

Tipton St John
Tipton St John is a picturesque village situated in the civil parish of Ottery St Mary, East Devon and with a population of around 350. Built on rising ground overlooking the River Otter and surrounded by stunning countryside, this rural community has history dating back to the Doomsday Book.
Amenities consist of a community hall, playing fields, shop and garage.  The Golden Lion pub which is at the heart of the village is extremely popular in the area and renowned for its excellent cuisine.
The traditional Tipton St John Church of England Primary and Pre-School which is situated next door to the village church has approx. 95 pupils and aims to serve its community by providing an education of the highest quality reflecting its Christian beliefs.
Medical facilities and further shops can be found at Ottery St Mary or West Hill, only a few miles away, and the local bus service runs to Whimple and also Sidmouth via both of these villages.
The nearest train station is only 6 miles away at Whimple which is on the main West of England line (Exeter – Waterloo).  The village also lies some 8 miles from Exeter International airport and M5 motorway and 12 miles from Exeter city centre.

Feniton
Feniton is situated in East Devon and lies about 4 miles West of Honiton. It is thought to be named after the Vine Water, which is a tributary of the River Otter, and runs through the old part of the village. As this would suggest, Feniton consists of an original settlement which contains the 13th-century Church of St Andrew and a number of thatched cottages and a new village which lies about 0.75 miles West of this, separated by open countryside.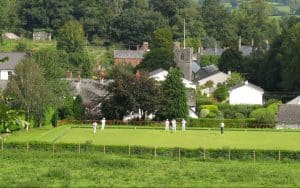 Amenities include Feniton Church of England Primary School, playing field, a village shop, sports and social club, a bowls club, private dental practice, hairdresser and fast food takeaway. In 1967, when the new village was taking shape, Feniton railway station and its associated branch line were closed as part of the Beeching cuts. Fortunately, however, it was reopened by British Rail in 1971  and sits on the South Western Railway line which runs from Exeter to London Waterloo.
In 2008, 60 properties in the centre of New Feniton experienced flooding as the existing watercourse was unable to cope with the quantity of water. Since then, a new flood defence system has been built which diverts flood water away from the village and its housing developments.
Transport links are good as the village sits adjacent to the A30 with its connections to the M5, A303, Exeter and its International Airport. Regular trains and buses run from the village connecting with Honiton 4 miles away where many shops, medical facilities and secondary schools can be found.

Woodbury & Woodbury Salterton
These two adjacent villages are situated in East Devon between Clyst St George and Budleigh Salterton,  7 miles South East of Exeter and about 4 miles north of Exmouth. They are quiet, historic and charming places, surrounded by beautiful countryside.
With its traditional village green, Woodbury has a shop, post office and garage. There is also a doctors' surgery and two pubs, The Maltsters Arms and The White Hart. Woodbury Salterton also has an historic pub, The Digger's Rest.
Woodbury Church of England Primary School can be found in a central position, with two churches at either end of the village – Saint Swithuns, which was built in the early 15th century and Christ Church Woodbury. Woodbury Salterton also has a primary school and both villages are in the catchment area for Exmouth Community College.
Adjacent to the villages, lies Woodbury Common, an area that is predominantly heathland which has wide swathes of gorse and heather and is a popular spot for orienteering, hill-walking and mountain biking.   The common is part of the East Devon Area of Outstanding Natural Beauty, and is a Site of Special Scientific Interest.
Transport links are good with the villages situated close to East-West A3052 road and the A376 road that follows the Exe Estuary from Exeter down to Exmouth. The M5 motorway, Exeter International Airport and City Centre are within easy reach.  There is a regular bus service to Exeter and Exmouth and a railway station near by at Exton which is on the Avocet line running also between Exeter and Exmouth.

Lympstone
Lympstone is an historic village in East Devon with a population of around 2000. It sits on the Eastern shore of the Exe Estuary and its rich heritage has shaped how the streets look today with over 70 listed buildings making a picturesque and little-changed village core. This quintessential Devon estuary side village is quiet, characterful and charming yet teeming with vitality.  Undoubtedly one of the strongest characteristics is the 'Community spirit'. It was described by local magazine, Devon Life, as a 'Community Powerhouse', and recognised as Devon Village of the Year in 2007.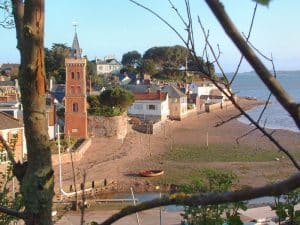 There is a harbour on the estuary of the River Exe with a promontory to the North which is topped by a flat pasture, Cliff Field. This is managed by the National Trust and used for football matches and other local events. Lympstone AFC were formed in 1906, they have sides in the Devon & Exeter Football League.  The 1st Lympstone Sea Scouts Group celebrated its centenary in 2012. With its flourishing Scout and Cub sections, it meets in the Scout HQ on Cliff Field.
The vibrant centre of the village has 4 pubs and several shops, including a general store and post office, cafe, hairdressers, Doctor's surgery and garden centre as well as a whole host of small businesses that the community enjoy.  There is a thriving primary school and pre-school and also an independent preparatory school St. Peters.
Transport links are good  with Lympstone railway station providing services on the Avocet Line to Exmouth and Exeter. Bus services to Exmouth and Exeter run regularly and the M5 motorway, Exeter International Airport and City Centre are also within easy reach. The Exeter–Exmouth cycle route passes through the village and is popular for commuters and recreational cyclists alike.

Seaton
Seaton is a seaside town and fishing harbour in East Devon and is historically part of Axmouth (to the east) and Beer (to the west). It faces onto Lyme Bay and is on the Jurassic Coast World Heritage Site. A sea wall provides access to the mostly shingle beach stretching for about a mile, and a small  harbour, located mainly in the Axmouth area.
Many of the town buildings are Victorian, including a notable collection of large houses at Seaton Hole, but the town also has notable buildings from the 1930s and later periods. Seaton's recorded population at the 2011 Census was 8,413 but new developments around the town have increased this number since then.  
The area around Seaton is rich in wildlife, otters are present on the River Axe, and since the end of 2009 have been regularly seen on Seaton marshes. This area on the Axe Estuary which has been enhanced by the establishment of a nature reserve, is of international importance for its aquatic communities, bird-watching and wildlife areas.
There are churches of various denominations and a primary school which is situated in a central position.  There are also a couple of pre-schools/nurseries.  For those pupils wishing to do so, there is still an option to sit the 11 Plus and apply to the local Colyton Grammar School or alternatively attend either Axminster or Sidmouth secondary schools.
Seaton amenities include a medical centre and local hospital, independent shops including a butchers, greengrocers and hardware store plus a large Tesco supermarket and a couple of service stations. There are a several cafes and pubs in the town centre plus pubs nearby at Axmouth.
Transport links are good with Axminster railway station only seven miles away. This is on the London Waterloo to Exeter line with regular trains to both. There are regular buses to Lyme Regis, Axminster, Sidmouth, Honiton and Exeter and good road links to the A35 and A30. Exeter, with its International Airport and access to the M5 motorway, lies 23 miles to the West. The Seaton Tramway which opened in 1970 links Seaton with Colyford and Colyton.

Axminster
Axminster is a market townon the eastern border of Devon some 28 miles East of Exeter. The town is built on a hill overlooking the River Axe and is in the East Devon local government district. At the 2011 census, it had a population of 5,761.
The town dates back to the Celtic times of around 300 BC. It lies on two major Roman roads: the Fosse Way from Lincoln to Seaton, and the Dorchester to Exeter road. It was recorded in the Domesday Book as Aixeministra. The name means 'monastery or large church by the River Axe'. The history of the town is very much linked to the carpet industry. Indeed, Axminster gave its name to a type of carpet, and while they are made in the town still, they are also manufactured all over the world.
The celebrity chef and TV presenter Hugh Fearnley-Whittingstall has his River Cottage H.Q. at a 60-acre farm nearby in the Axe valley. He also has a much-frequented organic produce shop and canteen in the town centre.
Amenities include the Axe Valley Sports Centre and Flamingo Swimming Pool, a library and a museum of local history. Shops include three supermarkets and several independent retailers. The Guildhall is a theatre with meeting rooms that hosts many events and clubs such as Axminster Drama Club and Axminster Operatic Society. The town is also home to a small, local hospital.
Schools abound with The Axe Valley Adademy (secondary) Axminster Community Primary School and St Marys Catholic Primary school plus there are several pre-schools and nurseries. There are also churches of various denominations.
Transport links are excellent with Axminster railway station being on the West of England main line that runs from Exeter to London Waterloo. There are also bus services to Honiton, Exeter, Taunton, Ilminster, Chard, Dorchester and Bridport and road links are good as Axminster lies close to the A35 and a short distance from the A303.

Beer
Picture postcard pretty, Beer is a coastal village in East Devon which sits on Lyme Bay, a little over 1 mile West of Seaton. It is situated on the Jurassic Coast World Heritage Site and its picturesque cliffs, including Beer Head, form part of the South West Coast Path. Beer is mentioned in the Domesday Book of 1086, at which time it was located within Colyton hundred and had 28 households. At the 2011 Census, the parish had a population of 1,317.
Historically, the main sources of income for the village include fishing and lace production. Boats are winched up the beach as there is no harbour, and fresh fish is sold locally
Many of the buildings are faced with flint which is found in the local chalk rock, and the centre of the village has many attractive cottages and houses that sit on the gently sloping road into the centre where a brook winds its way in an open conduit down to the sea.
The village centre is busy with a many independent shops, art gallery and wet fish shop. There is a village store which sells most things plus numerous coffee shops, pubs and eateries. There are two churches, St Michael's C of E and Beer Congregational Church and many community groups which meet on a regular basis including a Cub and Scout group, Men's Shed and Horticultural Society.  Beer also has its own Doctors surgery.
Young children can attend the village pre-school and primary school while secondary school aged children can attend either the Grammar school at Colyton, or one of the Community Colleges at either Axminster or Sidmouth.
The nearest train stations are at Honiton & Axminster which are about a 20 minute drive away, both are on the Waterloo to Exeter line and provide regular services to both. The bus services which serve the village go to Axminster, Lyme Regis, Seaton, Sidmouth and Exeter. The M5 and Exeter International Airport are approximately half an hour away by car.

Branscombe
Branscombe is situated in East Devon within an Area of Outstanding Natural Beauty overlooking Lyme Bay.  Believed to be the longest village in England, its picturesque thatched cottages meander down a magnificent valley nearly all the way to the sea. It is a peaceful location with a population of only 507 in the 2011 census and offers a tranquil lifestyle in beautiful surroundings.
Branscombe's principal industries are farming and tourism, although a significant number of permanent residents are retired. The village meanders along narrow roads down steep-sided valleys, terminating at a shingle beach which forms part of the East Devon and Dorset Jurassic Coast. To either side of the beach, the coast rises steeply to cliffs, which are in the ownership of the National Trust.
There is a local pre-school and small primary school which is owned and operated by the Church of England with grant assistance from the Devon County Council. The original building dates from 1878.
There are two well renowned pubs in the village, the Fountain Head and the Mason's Arms, both of which were included in CAMRA's Good Beer Guide 2008. The local brewery, Branscombe Vale, has won many awards for its beer. The nearest shops and medical services can be found nearby at Sidmouth.
Branscombe has one of the South West's most scenic bus routes with a service 899 that runs from Seaton to Sidmouth via Beer and Branscombe. Honiton train station is just over 9 miles away and provides a service to London Waterloo or Exeter.